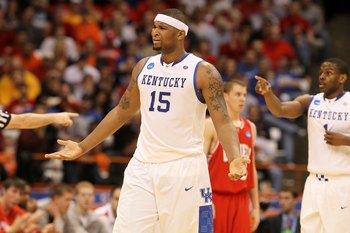 Read this article on Bleacher Report
The NBA season has come to an end, and the draft is almost upon us.
Last time
, we focused on how the NBA draft combine affected player rankings, but this time, we will take a look at groups of players who may be somewhat interchangeable within a certain range of picks, as well as individual players who have risen or fallen in the rankings.
DeMarcus Cousins in particular has been falling in several notable mock drafts. NBADraft.net currently has him at #7, while DraftExpress has him at #6. If you are confused, trust me, I'm right there with you.
His critics tend to point out that he lacks maturity, or that he's a loose cannon, or that he's uncoachable. Okay, sure, there are a few things that he can work on, but come on . . . let's face it, everyone is pretty immature when they are 19 years old. I'm 24, and I still get into the occasional scuffle on the basketball court in pick up games at the local YMCA. Basketball is a physical and emotional game, it's just the way it is.
Why don't we just take a step back and realize how rare a player Cousins is. First off, he has an NBA body. The guy is a monstrosity of the human race. He's 6'11" with a 7'4" wingspan and weighs in at 290 pounds, and despite that, he can make surprisingly quick moves around the post to find scoring opportunities. Cousins is a natural post scorer, and is by far the most polished big man in the draft.
Cousins averaged 15.1 points and 9.8 rebounds at Kentucky, winning the distinction of the SEC Freshman of the Year over the likes of his own teammates John Wall and Eric Bledsoe. He was THE best big man in college basketball last year.
So he's a little emotional on the court. I'm okay with that. I like my big guy to be a little mean. Honestly, would you rather your center be a soft spoken, quiet, unassuming nice guy, or would you rather have a big, mean, physical guy who scares away small children at a glance? I'll take the bad dude. The paint area in the NBA is no place for wimps.
Will Cousins pick up a good deal of technicals? Probably quite a few, but that didn't stop Rasheed Wallace from becoming an NBA champion. Does he need to lose a few pounds? Yeah, he's a little overweight, but that didn't stop Shaq from becoming an NBA champion.
I think we just need to take a deep breath and realize that a player like DeMarcus Cousins doesn't come along every draft. He's not eh most athletic guy, but he's got a wonderful post game for a player his age, and his size is unmatched by anyone else in this draft. There's no way he falls out of the top 5, and anyone who tells you otherwise is just wrong.
So now that I'm done ranting, lets look at my final rankings. I've broken down the first round into five separate tiers, and several notable players have moved around since my 2nd edition. Take a look . . .
Tier 1
1. John Wall
2. Derrick Favors
3. Evan Turner
4. DeMarcus Cousins
5. Wesley Johnson
These are my surefire top 5 picks. The only difference from my previous edition is that I moved Wes Johnson to #5 up from #6. These players will go on to have good to great NBA careers as eventual starters and post solid numbers year after year. John Wall has the potential to be one of the best point guards of his generation, Favors and Cousins should become two of the most dominant scoring big men in the league, and Turner and Johnson will both be valuable wings for the next decade. Turner being the versatile guard/forward who can do a little bit of everything, and Johnson being the athletic lockdown defender who can shoot from range. Anybody who drafts in the top 5 can rest easy knowing they took a good impact player. Barring injuries, you can take that to the bank.
Tier 2
6. Greg Monroe
7. Ekpe Udoh
8. Al-Farouq Aminu
9. Paul George
10. Ed Davis
11. Luke Babbitt
Now these are the players who can make or break a championship caliber team. Where the first tier guys were all surefire impact players, here we have 6 guys who could either be really awesome, or just some decent contributors, who may or may not be in a starting lineup in a few years. The best prospect here is clearly Monroe. He has the physical attributes which suggest that he could one day be one of the most dominant forwards in the league. The only question mark in his game is his somewhat passive demeanor. He needs to compete harder.
As I have mentioned several times before, I absolutely love Ekpe Udoh, he's just such a unique prospect, and I think he will have a brilliant career if he can polish his perimeter skills and smoothly combine that with his size and athleticism.
Paul George is by far the biggest mover since the first edition of this mock. The ultra-athletic 2 guard from Fresno St. is a strong finisher and has a good jumper as well. However, his ball handling is somewhat suspect and is currently the biggest weakness that he must improve upon.
Babbitt, as I see him is a better version of Kyle Korver. He's more athletic, can play a little defense, is much better off the dribble, and is every bit as good of a spot up shooter as Korver was coming out of college.
Tier 3
12. Xavier Henry
13. Gordon Hayward
14. Cole Aldrich
15. Patrick Patterson
16. Avery Bradley
This next group of players should mostly become very good role players, with the decent chance that one of them could become a star. Henry has been quietly creeping up the rankings for a long while, and it's about time he got his due. He's a great spot up shooter who can play good, physical defense. He must become more attack-oriented if he wants to hit that next level.
Hayward and Patterson are both pretty versatile options. Patterson is a bit undersized for a 4, but has enough of a shooting stroke to make defenses respect him. Hayward's magnificent ball handling skills make him a very difficult guy to match up with, but he will have a hard time learning to play defense against NBA forwards.
Bradley should become an instant offense off the bench guy kind of like J.R. Smith or Nate Robinson, but I don't see him developing as a strong defender anytime soon.
Aldrich fell quite a few spots since last time because I just don't see the real selling point for taking him in the top ten other than his rebounding. Sure he's big, but can he guard Dwight Howard or Chris Bosh? I just don't know.
Tier 4
17. Eric Bledsoe
18. Hassan Whiteside
19. Kevin Seraphin
20. Daniel Orton
21. James Anderson
22. Damion James
23. Jordan Crawford
The new face here is Jordan Crawford, the outstanding guard out of Xavier. He's athletic and is one of the best scorers in the draft class. He made a name for himself in this year's NCAA tournament, scoring 32 points in an overtime loss to Kansas State. He can catch and shoot and is great at finishing in the paint. Just ask Lebron James, who Crawford famously dunked on. However, Crawford has a lot of trouble drawing fouls, which limits his efficiency.
Tier 5
24. Elliot Williams
25. Devin Ebanks
26. Solomon Alabi
27. Dominique Jones
28. Quincy Poindexter
29. Gani Lawal
30. Stanley Robinson

I have cooled off a bit on Solomon Alabi, because he is just so similar to Hasheem Thabeet. He's big and long, but he really needs to bulk up, otherwise, I don't see him contributing in a big way immediately.

I think Elliot Williams is a steal at this point in the draft, as I believe he is one of the best on ball defenders in this class.

Gani Lawal has been underrated by most mocks in my opinion. He has an NBA body and is capable of scoring in bunches.