Read this article on Bleacher Report
A lot has happened since my
previous mock draft
a month ago, most notably the NBA Draft Combine. The NBA draft combine doesn't get nearly as much coverage as the NFL draft combine, mostly because it's a much worse predictor of future success in the pros. While plenty of football players can be effective without ever needing to actually touch the football, thus making their physical abilities more important, NBA players need skills a combine cannot cover to be good pros. How fast is a player with the ball? Can he pass? Does he understand defensive rotations? Can he change speeds effectively? Can he shoot? You get the idea.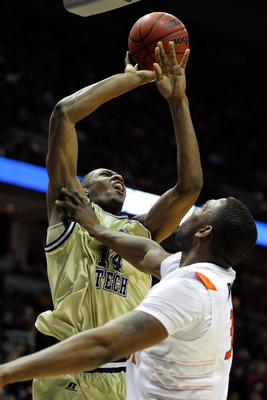 The difference between "combine" ability and basketball abilities is often pronounced. It doesn't matter how fast a player can sprint; it's how fast he can sprint while dribbling. (There is the semi-famous story of Marquis Daniels outracing Leandrinho Barbosa to corroborate this.) It's not how high a player can jump that makes a good rebounder; often, it's how quickly he can jump that matters. It's not about strength at the basket; it's the ability to concentrate after taking contact. (Kevin Durant couldn't lift the bar at the combine; he made around 70% of his shots at the rim last year.)
That being said, the results of this year's combine are in, and some of them only reinforce what we already suspected, but some players, such as Derrick Favors, Gordon Hayward, and Avery Bradley are really moving up various draft boards.
Last time, I compiled several mocks into one meta-draft. This time, I will give you my take on it, based on both team needs and player talent.
1. John Wall, G 6-4 Washington Wizards
Previous Ranking: 1
Nothing different here, Wall was brilliant as ever at the combine, sporting a ridiculous 6-9 wingspan as well as the fastest 25 yard run (3.1 seconds) and a 43 inch vertical. So yeah . . . Wall is the #1 pick, and he will be a Wizard. If anyone says differently, they are wrong.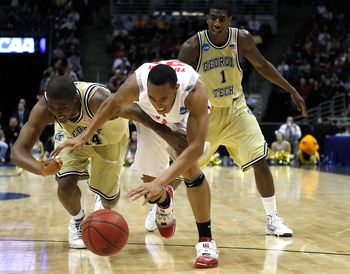 2. Derrick Favors, F/C 6-10 Philadelphia 76ers
Previous Ranking: 3
3. Evan Turner G/F 6-7 New Jersey Nets
Previous Ranking: 2
Just about every mock on the planet has Evan Turner going #2. That's just fine, I have no problem with that, but if I am Ed Stefanski, GM of the 76ers, I'm taking Favors. Here's my logic: Turner is talented, there's no question about that. He is a phenomenal prospect as a guy who can play all three perimeter positions. However, there are many talented wings in the NBA, including Andre Iguodala, the star of the 76ers. Although Turner is a bit taller, he compares favorably to Trail Blazers star Brandon Roy in terms of his (relatively) modest athleticism (34.5 inch vertical) and build (6-8 wingspan), but shows the same kind of craftiness and smart instincts that Roy is famous for.
Turner is a great, there's no doubt about it, but how many times are you going to find a physical specimen like Derrick Favors? Physically, Favors is a combination of Dwight Howard and Al Horford. at 6 foot 10, 245 pounds and he measures almost the same as Howard at his draft combine (6-10, 240). Skill-wise, he's a long way from Evan Turner, but you draft on potential. Favors could be one of the most dominant players in the league in 2 or 3 years. He has a 7-4 wingspan and a 36 inch vertical. He will almost certainly be a double digit rebounder at some point in his career and has all the physical tools to be a dominant scorer. I think he has the potential to become the next Amar'e Stoudemire if he develops his mid range game a bit further.
Basically, it comes down to whether you want a super athletic big man or a versatile wing. Wings are a dime a dozen in the NBA. Guys like Favors come along maybe once every 3 drafts. You have to take favors. He's honestly a better prospect than Blake Griffin was last year.
The Nets have the easiest job ever, take whoever the 76ers didn't. You really can't go wrong with Turner or Favors.
4. DeMarcus Cousins, C 6-11 Minnesota Timberwolves
Previous Ranking: 4
The T-Wolves aren't really hurting for a center, but they really kind of have to take Cousins at this point. In many other drafts, Cousins might have gone #1, but there just happens to be a glut of talent at the top of this one. Similar to my argument for Favors, dominant big men just aren't that easy to find, and Cousins fits the bill in every way. He's not a world class athlete, but it really doesn't matter because he is a massive guy who will inhale rebounds and score in the post. Biggest question here is how he will respond to being on a struggling team. It was all fine a dandy winning 30+ games at UK on a loaded roster, but will he keep quiet on a 20-30 win team in Minnesota?
5. Greg Monroe, F/C 6-11 Sacramento Kings
Previous Ranking: 9
Okay, I don't care how many people disagree with me here, but to me, Greg Monroe should not go past the top 5. This guy is basically a young Lamar Odom with better passing and inferior ball handling. It is insane how much everyone is underrating this guy. HELLO . . . HE'S 6-11, AND ULTRA SKILLED. He's not an incredible athlete or a great defender, but he's a hard worker with great passion for basketball, and I think the defense will come. Monroe has the size and length to be a NBA power forward, he's super unselfish and has the ability to create shots for himself. What more do you want in a top 5 pick?
6. Wesley Johnson, F 6-8 Golden State Warriors
Previous Ranking: 5
With Johnson, the Warriors can get exactly what they need: an athletic, versatile wing who brings it on defense. Johnson is extremely productive and efficient. With players like Stephen Curry, Monta Ellis, Corey Magette, Anthony Randolph, and a healthy Andris Biedrins around him, Johnson could help transform the Warriors into a winning team.
7. Cole Aldrich, C 6-11 Detroit Pistons
Previous Ranking: 7
The Pistons need a solid big guy in the middle, and that's exactly what Aldrich gives them. I did want to put Ekpe Udoh here, but I just couldn't justify it, as Udoh is not a true center like Aldrich is. The great thing about Aldrich is that you know exactly what you are getting, and sometimes, that is a very good thing in the crap shoot that is the NBA draft.
8. Ekpe Udoh, F/C 6-10 Los Angeles Clippers
Previous Ranking: 12
I really, really like Udoh. I think he is going to be very good. He has great size, length and athleticism. He is quite versatile, with the ability to face the basket, hit the mid range jumper, and is a pretty good passer as well. Having just traded away one of the best post defenders in the league in Marcus Camby, the Clippers could pick up Udoh and not drop off too much. Udoh is a fierce shot blocker and with Blake Griffin and Chris Kaman could form one of the best front courts in the league.
9. Al-Farouq Aminu, F 6-8 Utah Jazz
Previous Ranking: 6
I like this pick for the Jazz. I tend to think Aminu is a bit overrated in most mocks, but I do agree with most that he has huge upside, and he is exactly what the Jazz need: a versatile wing who can defend and brings a variety of tools offensively that Deron Williams can utilize to great potential. He will, however need to develop more as a perimeter player with the Jazz's abundance of post options. (If Boozer sticks around)
10. Ed Davis, F 6-9 Indiana Pacers
Previous Ranking: 8
Davis continues to drop down the rankings. If only he had gone last year, he would have been a top 3 pick. But still, he offers a good skill set and defensive intensity. He has great hands and is effective on the glass.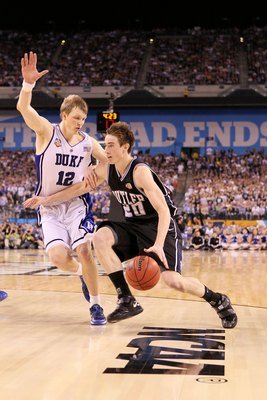 11. Gordon Hayward, F 6-8 New Orleans Hornets
Previous Ranking: 16
Yes, I'm serious . . . Hayward is is just so skilled. He's also deceptively athletic. Find me another 6-8 guy who can handle the ball and shoot like Hayward. He would be a great weapon for Chris Paul to utilize.
12. Patrick Patterson, F 6-8 Memphis Grizzlies
Previous Ranking: 14
I like Patterson. He's big, he's athletic, he's got an NBA body, and he can shoot. If he started rebounding like he's capable of, he'd be invaluable to any NBA team out there.
13. Luke Babbitt, G/F 6-7 Toronto Raptors
Previous Ranking: 23
Babbitt is one of the biggest movers here. He's not very athletic, but he's an incredible left-handed shooter who went 89% from the free throw line and 41% from three last year in college. He's also quite skilled and has the ability to create separation for himself to get off his shot. He has the potential to become instant offense for any team, and at 6-7 could at least bother people on defense.
14. Donatas Motiejunas, F 7-0 Houston Rockets
Previous Ranking: 13
Good skilled big man who is quite athletic and can play down low in the post or face up on the perimeter. The Rockets could use him as a change of pace guy from Luis Scola and Yao Ming, bringing in a guy who can run on the break and create mismatches on offense.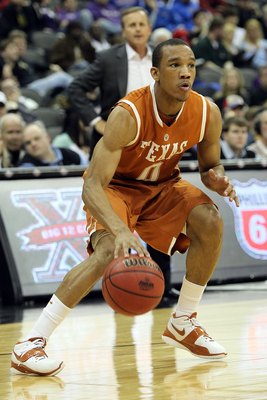 15. Paul George, F 6-7, Pvs: 18
16. Avery Bradley, G 6-3 Pvs: 22
15. Daniel Orton, F/C 6-10, Pvs: 15
16. Xavier Henry, G/F 6-6, Pvs: 13
17. Eric Bledsoe, G 6-2, Pvs: 20
18. James Anderson, G 6-6 Pvs: 17
19. Hassan Whiteside, F/C 7-0 Pvs: 10
20. Solomon Alabi, C 7-1 Pvs: 21
21. Kevin Seraphin, F/C 6-9 Pvs: Unranked
22. Larry Sanders, F/C 6-9 Pvs: 19
23. Damion James, F 6-7 Pvs: 24
24. Stanley Robinson F 6-8 Pvs: 25
25. Devin Ebanks F 6-9 Pvs: 26
26. Lance Stephenson G/F 6-6 Pvs: Unranked
27. Elliot Williams G 6-4 Pvs: 28
28. Quincy Poindexter F 6-7 Pvs: 27
29. Armon Johnson G 6-3 Pvs: 30
30. Gani Lawal F 6-9 Pvs: Unranked