Read this article on Bleacher Report
Sigh.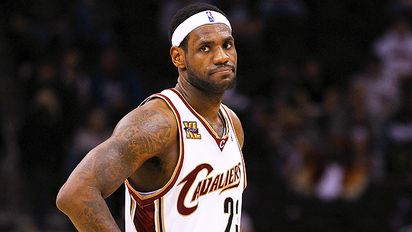 What can you say about LeBron James that hasn't already been said in every outlet of sports media?
He is clearly the most talented and dominant athlete in basketball. He is known as "The Chosen One," "Akron Hammer," "L-Train," or simply "King James." Anybody with that many nicknames is surely an all time great. He is a surefire future hall of famer, and there is no reason for anyone to believe his legacy is on the line. He still has a decade of basketball to play
LeBron was supposed to bring a championship to the cursed city of Cleveland, whose sports teams had not won a title in any major sport since 1964. Just to put that in perspective, here's a short list of things that happened in 1964:
Cassius Clay changed his name to Muhammad Ali and defeated Sunny Liston to win his first heavyweight title.
The Beatles song "I Want to Hold Your Hand" was the number one single.
"My Fair Lady" won best picture at the academy awards.
"Bonanza" was the number one show on television.
My point? 1964 was a long time ago. Cleveland is a city where sports fans are constantly tortured by near misses in nearly every sport. It's happened so often that they actually have names for every specific occurrence. "The Fumble," "The Shot," and "The Drive" are just a few of the incarnations of the Cleveland sports curse (not to mention the 1997 World Series).
Pretty soon, we are going to have to come up with a name for the LeBron situation.
First of all, if LeBron James leaves for another team, I have absolutely no doubt that he instantly becomes the greatest sports pariah of all time in Cleveland. Any time he returns to that city, he will be absolutely despised and reviled beyond his wildest imagination.
Is that justified? Absolutely not. Those fans don't seem to remember that LeBron basically carried the Cavs to the playoffs every year with almost no supporting cast to speak of, including an NBA finals appearance in 2007. He entertained them at every home game with his unbelievable athleticism and talent. He gave them some of the best and most exciting years of his career.
Is it his fault the Cavs haven't won it all yet? No.
Every single year the Cavs were knocked out of the playoffs, we said "Well, LeBron can't be blamed, he played lights out, he just had no help." That is true. I can't remember a single year where LeBron didn't bring it almost every play of every game.
Game five against the Celtics this year was the first time I saw LeBron not being LeBron. The guy literally has had like two or three bad playoffs games in his career, and you are insane if you are going to blame him for this defeat.
Why not blame some of the people who deserve it?
I'm pointing the finger at Mike Brown. He deserves to fired.
The biggest advantage he had against the Celtics was athleticism. During the regular season, the Celtics had a terrible time matching up with Hickson-LeBron-Moon-West-Williams or even Hickson-LeBron-Varejao-Williams-West.
Bill Simmons noted in his column on ESPN.com: "In a Feb. 25 game in Boston, Hickson-LeBron/Moon-Varejao-West-Williams turned a 78-77 deficit into a 101-86 rout in just eight minutes. They blew the Celtics off the court."
Instead, he played Shaq all series even though he got killed on pick and rolls every time, was nonexistent on help defense and fast breaks, and clogged up the lane on offense; which limited LeBron to jump shots much of the time.
Hickson sat on the bench nearly the entire series and Moon, Brown's best perimeter defender, who also barely played, was guarding Ray Allen or Paul Pierce instead of Rondo; who continually killed the Cavs with his drives to the basket.
Mike Brown is terrible at creating favorable matchups. The only reason he is even an NBA head coach is because he has the best player in the world and he gets carried to 60-win seasons. The Cavs said they are keeping Brown this year, and I predict that he's gone by this time next year. LeBron should have just been Player-Coach, Bill Russell style.
How about Mo Williams, Antawn Jamison, and Shaq? These guys were brought in to help LeBron, not stand around and expect LeBron to take over and win a title for them. Mo figured it out in the first half of game six, but then everyone just gave up in the last two minutes of the game. Pathetic.
Shaq is not a good player. I'm sorry, but he's terrible. He needs retire.
LeBron has every right to pursue free agency. As cliche as it may sound, it's a free country. You can't force him to stay in Cleveland. He wants to win a title, and it's becoming more and more obvious that it will not happen there.
As a LeBron fan, I want to see him in the finals competing for a championship. For that to happen, I think he has to leave.
At any rate, all signs point to his departure. It is obvious from his body language and from the way his teammates played the last two minutes of game six that he is gone.
Wherever LeBron ends up, he will contend for championships every year. He will pick the best situation for long term championship contention. Personally, I believe that destination is Chicago. Some think it is New Jersey or New York.
Regardless, whatever LeBron James does this summer, it will have a ripple effect across the league that will affect its direction for the next decade.
It is a little sad, but I think I am actually more excited about this off season than the playoffs right now.
With all the free agent signings and potentially one of the deepest drafts ever, it is sure to be an interesting shift in the struggle for NBA supremacy. I can't wait.