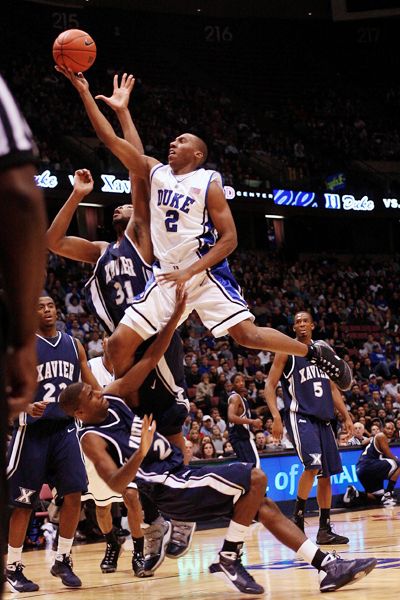 Read this article on Bleacher Report
It's official, Singler is back. Duke haters everywhere, prepare to suffer another year. According to many "experts," Duke is the preseason #1 and the favorite to win it all (again). I still think Michigan State is the favorite, since losing seniors Zoubek, Thomas, and Scheyer cannot be underestimated, but Duke's backcourt is unquestionably the best in the nation for 2010-2011. Singler and fellow senior Nolan Smith are both potential All-Americans, joining the #1 point guard prospect Kyrie Irving, who will lead the offense, which, by the way, will be MUCH faster paced this year. Long distance snipers Seth Curry and Andrew Dawkins round out the ridiculous backcourt, and the athletic brothers Plumlee will return, presumably much improved, to cause havoc in the interior. I anticipate many, many alley-oops from Irving to Plumlee (either one.)
Just check out this depth chart:
C: Miles Plumlee, (Mason Plumlee)
PF: Mason Plumlee, Josh Hairston, Ryan Kelly
SF: Kyle Singler, Carrick Felix
SG: Nolan Smith, Andre Dawkins
PG: Kyrie Irving, Seth Curry, Tyler Thornton
This team has all the weapons to be the run & gun, pressure defense, transition oriented, high scoring type of squad that Duke has traditionally seen. There is enough quality talent here for the team to go 10 deep, although I expect Coach K to shave the rotation down to 8 or 9 by March.
Although this team will be very different from last year's championship squad in terms of play style, it is similar in that the experience is there. My projected starting lineup includes 2 seniors, a junior, and a sophomore, all 4 of whom return from a championship campaign. Kyrie Irving doesn't really count as a freshman, since his game will translate immediately, and he will play as though he is an upperclassman.
There should be no questions about athleticism this time around, as this will be the most athletic Duke team since 2002. Everyone on the team can run the floor and finish at the rim. Duke fans can look forward to the most exciting squad we've seen since Jason Williams ran the point.