Read this article on Bleacher Report
Round 1
Cavaliers vs. Bulls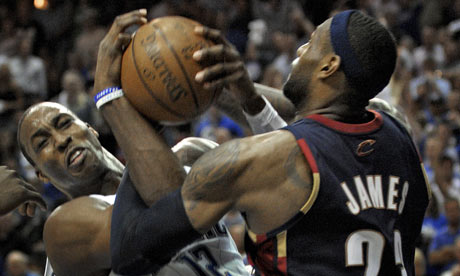 The Bulls have made somewhat of a late season surge with Derrick Rose playing some of the best basketball of his career. Yes, they played out of their minds last year against the Celtics (and should have won), but losing 40 points a game from Ben Gordon and John Salmons is not going to help them score against a tough defensive squad in the Cavs. Derrick Rose will be tough to stop, but it's going to be 1 on 5. Deng will have a hard time doing anything with Lebron dogging him. Cavs will sweep.
Prediction: Cavs in 4
Magic vs. Bobcats
Much more intriguing matchup. I just can't respect Stan van Gundy, so the coaching advantage definitely goes to the Bobcats. Good thing the games aren't decided by the coaches. The Magic are the deepest team in the league in my opinion. They have 5 quality starters, including the defensive player of the year Dwight Howard, and then a bench that includes outstanding role players Mickael Pietrus (defensive stopper), J.J. Redick (sniper and much improved passer), Jason Williams (one of the best backups PGs in the league), not to mention Bass, Gortat, and Anderson. That's a dangerous team. However the Bobcats have been underestimated all year. This will be a tough defensive battle, but the Magic are too good.
Prediction: Magic in 6
Hawks vs. Bucks
It's a shame Andrew Bogut obliterated his elbow and went out for the season, otherwise this might have been a good series. (Actually, the Bucks would probably been a 5 seed) Brandon Jennings' shooting has been fading fast down the stretch, and John Salmons won't be able to carry the Bucks over a super athletic Hawks squad. The Hawks are loaded with size and strength at every position and will take this series with no major issues.
Prediction: Hawks in 5
Dwayne Wade vs. Celtics
The Celtics are done. That's about all there is to say here. KG would be the most washed up player in the league, but Rasheed Wallace gets that distinction. Throw in a banged up Paul Pierce, and a 34 year old Ray Allen, and these guys have no hope of containing D-Wade, who is playing for a big payday this summer somewhere other than Miami. Boston's only hope rests on the unproportionally wide shoulders of Rajon Rondo, but not even he will be able to guard Wade. Nate Robinson is last year's Stephon Marbury. (Non-factor and liability on D) It will be a long series, but the Celtics' flame will finally sputter and go out.D-Wade will get angry and go on a rampage.
Prediction: Dwayne Wade in 7
Round 2
Cavaliers vs. Dwayne Wade
As the matchup suggests, it's 5 on 1, and this time, Lebron is on the other team. Wade will do everything in his power to steal a game, and will succeed, but in the end, the Cavs just have too much size, too much physicality, and Wade will play his last game in a Heat uniform. No one in Miami should be mad at him either, Pat Riley didn't lift a single finger to try to build a real contender around him.
Prediction: Cavs in 5
Magic vs. Hawks
This will be a fun one to watch. Two of the best defensive teams in the league, with the two most dominant defensive players in the league: Howard and Smith. The Hawks have come along way for sure, but the question here is whether or not they will have the offensive firepower to hang with the Magic. Both of these teams average over 100 ppg, but I'm giving the defensive edge to the to the Hawks and the offensive edge to the Magic. The bench is going to play a huge part in this matchup, and the Hawks have a stud in Jamal Crawford coming off the pine, but the Magic just have more quality guys 6 through 10. The Magic will win in a hotly contested, physical series.
Prediction: Magic in 7
Conference Finals
Cavaliers vs. Magic
Here's what the Shaq trade was all about, and we will finally see if Lebron can get back to the finals. Both of these teams will be very hungry, but the Cavs have had the far easier road here, while the Magic have played 2 long, grueling, physical series up to this point, and as a result are a little more nicked up and fatigued. Lebron gets angry and turns into the incredible hulk and starts dunking all over superman and the Magic. He has the support on offense this year in Jamison and Mo Williams. J.J. Hickson has emerged as a legitimate role player and Shaq is big enough to give superman a little trouble. Cavs grind it out and make it back to the finals.
Prediction: Cavs in 6