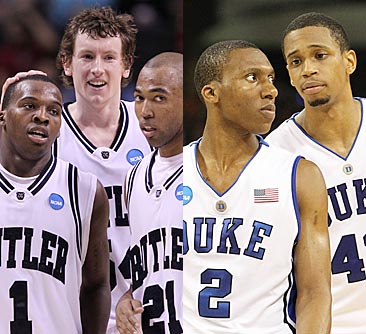 I'm posting this list of the players who I think deserve the most recognition for their performances in the tournament in 2010. Nolan Smith, Kyle Singler and Gordon Hayward highlight my first team selections, since I believe they have been the most outstanding players from Duke and Butler, respectively. My opinions of course are my own, but I believe this is fairly accurate. Take a look:
First Team
G Nolan Smith, Duke
G Durrell Summers, Michigan State
G Lacedarius Dunn, Baylor
F Kyle Singler, Duke
F Gordon Hayward, Butler
Second Team
G Jacob Pullen, Kansas State
G Jordan Crawford, Xavier
F Da'Sean Butler, West Virginia
G/F J.P. Prince, Tennessee
G/F Evan Turner, Ohio State
Third Team
G Denis Clemente, Kansas State
G Ali Farokhmanesh, Northern Iowa
G John Wall, Kentucky
F Wesley Johnson, Syracuse
C Omar Samhan, St. Mary's
Honorable mentions: Jon Scheyer, Duke; Louis Dale, Cornell; Brian Zoubek, Duke; Ekpe Udoh, Baylor; Demarcus Cousins, Kentucky; Shelvin Mack, Butler; Jordan Williams, Maryland; Draymond Green, Michigan State; Greivis Vasquez, Maryland; Wayne Chism, Tennessee; Jajuan Johnson, Purdue; Ryan Wittman, Cornell, Isaiah Thomas; Washington.